Vietnam chips making plan could include 2 directions: it can develop specialized chip lines suitable for reality, and at the same time develop human resources from other industries instead of just training new ones.
Discussion Vietnam Chips Making Strategies
The approach to Vietnam's semiconductor chip industry was given by experts and specialized agencies at a conference on the semiconductor industry on the afternoon of October 29, within the framework of Vietnam International Innovation Exhibition 2023 in Hanoi.
It is said that Vietnam chips making could go in the direction of making specialized chips, instead of racing after the world's most advanced chip lines.
When Moore's Law reaches its limit, meaning the ability to improve chip performance over a two-year cycle becomes increasingly difficult, the market will need specialized chip lines for each application. In the context of the explosive development of IoT, the demand for specialized chips serving IoT will become increasingly greater, and this falls under the strength of Vietnam chips making personnel.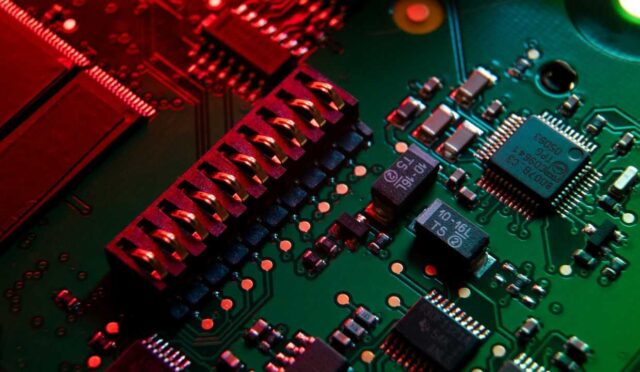 In addition, according to the expected semiconductor industry strategy, Vietnam will develop in parallel, that is, both attracting FDI enterprises to set up factory in Vietnam and improving domestic capacity. Vietnam doesn't necessarily has to have a product right away, but it can accompany and join the ecosystem of large companies, and focuses on the low- and mid-range segments, where it has a competitive advantage.
Citing the example of many businesses specializing in chip design, testing and packaging that have just entered Vietnam, the expert said that the domestic semiconductor ecosystem has gradually taken shape. That will be an opportunity for Vietnam chips making to make domestic products in the future.
One of the most mentioned challenges when developing the Vietnam chips making industry in Vietnam is human resources. In addition to the project to train 50,000 engineers, Vietnam has its own approach of "up-skilling" current human resources, which means equipping more professional skills, turning information technology and electronics engineers into specialized engineers. about semiconductor chips.
If Vietnam continuously trains a generation of engineers for four years, it will not be able to meet the demand. Meanwhile, Vietnam has a team of 350,000 IT and electronics engineers. If Vietnam trains them to do the job immediately, it will need to go quite quickly.
Sharing the same opinion, other expert also suggested that Vietnam choose its own direction and pursue it in the long term. Previously, chip companies tended to move from the Americas to Asia because of cheap labor. However, today, that is no longer a top priority. Instead, large companies will pay attention to other factors such as technological capacity, supply sources, infrastructure, logistics, and government support.
For example, Japan focused on developing the materials industry, which attracted large companies, including TSMC. Vietnam needs to understand this industry as well as understand the partners it wants to target, thereby having a suitable attraction strategy to establish business in Vietnam.
The chip industry is a long-term game, so it is also necessary to consider future trends and that Vietnam can choose directions such as semiconductor chips in cars, chips for AI, 2.xD packaging, chips using RISC-V open source architecture.
There are opinions that also proposed Vietnam to realize a project on human resource development, because the entire semiconductor chip industry is in a state of talent shortage. In addition, this is a global-scale industry, to deeply participate in the supply chain, Vietnam needs to create favorable conditions in terms of procedures, clearance, tariffs, expansion of investment agreements and technology support.
Vietnam has a great opportunity when the chip industry is in the stage of rebalancing the supply chain. The above actions will contribute to sending Vietnam signals to the world. The door of opportunity will not open forever, so Vietnam needs to take advantage of this opportunity.
Vietnam Chips Making Development Potential
At the conference, Vietnam Minister of Planning and Investment pointed out five advantages of Vietnam in developing the semiconductor ecosystem.
First, Vietnam has a stable political system, favorable geographical location, and the government is interested in promoting investment cooperation and developing the semiconductor industry in Vietnam.
Second, there is an abundant workforce in the field of engineering and technology suitable for the semiconductor industry, and there are reputable research and training units and large businesses ready to cooperate in developing the semiconductor industry. .
Vietnam is also attracting more and more large corporations in the semiconductor industry, especially after Vietnam and the US upgraded to a comprehensive strategic partnership, in which one of the contents of cooperation is development. semiconductor industry. During his visit to the US in September, Prime Minister Pham Minh Chinh also had many working sessions with the American Semiconductor Industry Association (SIA) and many leading semiconductor corporations.
Fourth, Vietnam is building many attractive investment incentive mechanisms for companies and corporations in the semiconductor industry. "Investment projects in the semiconductor industry in the high-tech field are given the highest incentives within the framework of Vietnamese law," the Minister said.
Fifth, Vietnam has established the National Innovation Center (NIC) and has three high-tech parks in Ho Chi Minh City, Hanoi, and Da Nang with full infrastructure conditions to welcome investors. Semiconductor industry with high incentive mechanism. According to the Minister, this will be an important bridge to support the development of Vietnam's semiconductor industry ecosystem.
Vietnam International Innovation Exhibition 2023 (VIIE 2023) is taking place from October 28 to November 1, at the National Innovation Center Hoa Lac campus, with display and introduction activities. Introducing new products and technologies in 8 key areas including: smart factories, smart cities, digital communications, environmental technology, cybersecurity, semiconductor industry, hydrogen and healthcare.
About ANT Consulting and Market Entry Services in Vietnam
ANT Consulting is here to assist you from the outset; providing intelligence, information, advisory, management or support services that assist market entrance, and ensure efficient business start-up operation.
Research Service
Company Profiling and Due Diligence
Policy and Regulatory Research
Assistance in Setting-up Business Venture
M&A Origination & Execution
For legal advisory, please check out the legal services of law firms in Vietnam.
How ANT Consulting Could Help Your Business?
Please click here to learn more about ANT Consulting or contact our lawyers and consultants in Vietnam for advice via email ant@antconsult.vn or call our office at +84 28 730 86 529